SYNOPSIS
Just your average boy-meets-girl, boy-kills-people story.
The Native American Navajo tribe has stories of a monster so wicked, so blood-thirsty, that they are to be hunted down and slaughtered. But are they just legends? Or is something sinister lurking in the shadows? The Yee Naaldlooshi—skinwalkers—have the ability to transform themselves. And they can be anyone. Anything.
The Hunters—a group dedicated to tracking the creatures—are hot on their trail and they won't stop until every last one is dead. But are they all as evil as foretold? Seb, alpha of the Taylor, Arizona reservation pack, begins to question the acts of their kind. But he's broken a rule and must choose between killing the girl he loves or risking everything to save her. Cassie must fight for her survival. The pack is after her. And they're no joke. Cass is about to find out how sadistic they can be.
I was given a copy of this book in exchange for an honest review.
The Hunted was a great, quick read. It read like most YA novels, quick and full of delightfully snarky and corny wit. I really enjoyed the joking back and forth and mushy talk between Seb and Cass. Sometimes it seemed a little too sweet, like give-me-a-cavity sweet, but on the other hand, it fit the story. I spent at least half the time looking like this while reading. They were seriously adorable.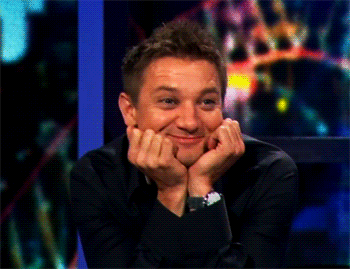 And let's stop for a moment and appreciate the wonder that is Seb. He is the epitome of book boyfriends. Now, I will admit, there is a wicked case of insta-love. So beware if that's something that bothers you. I'm a helpless romantic so I didn't mind one bit.
I dream of being with you forever, no matter the struggle or consequence.
Her brow puckers. I'd hate to be forced to choose between my family and you."
"I already have. I chose you."
I was really intrigued by the skinwalker mythology. I wish that part of the story was fleshed out more and hopefully there will be more about it in the next book. They sound absolutely terrifying.
"They're nasty, dangerous creatures. Born from witchcraft and raised as pure evil. They'll stalk you and taunt you. Then, when you're alone, they'll rip you to shreds."
A quick note about the ending....
HOLY CLIFFHANGER, BATMAN!!
I can't wait to read book 2!!!